WHAT NOW?
Returning from Urbana 2012 and Launching into 2013
I attended my first Urbana Student Mission Conference in 1973 as a 19-year-old college sophomore from the University of Massachusetts in Amherst.  The size of the conference, the caliber of the speakers, the array of workshops and exhibits, and the small group interactions combined to be one of the greatest experiences of my life to that point.  At the December 30th challenge, I stood and dedicated myself to go wherever God would send me in the world. My wife, Christie (who I did not meet until 1977), did the same.
I came home from that conference exhilarated, enthusiastic, exhausted and overwhelmed:
How do I communicate to others what I've learned?
What do I do with all of the information gleaned?
What are my next steps after my commitment?
How can I filter the mega experiences into tangible applications for the year ahead?
I learned in 1973 (and since then at Urbana '76, '81, '87, '90, '93, '00, 03, '06, '09, and now '12) that the post-Urbana period requires some significant reflection and processing.  Otherwise, it can simply be an awesome 'once-in-a-lifetime' experience.
So, with a few Urbana conferences behind me, I offer here my way for filtering through, reflecting and processing Urbana 2012.  Your categories might be different, but I hope my suggestions serve as an example for taking the amazing Urbana 12 experience and putting what we learned into action.
Since the conference concluded with an exhortation to "go" into the world, I'll use the illustration that Urbana 12 started the year 2013 by launching us out in service.  With the 'launch' theme in mind, here's my 5-4-3-2-1 countdown (like the way we all entered 2013 with that amazing communion service).
Upon returning from Urbana 12, I'm concentrating on:
FIVE big memories.  Thinking through the entire conference and identifying my five biggest memories gives me a handle on how to report the experience to those that were not there.  Nobody wants to hear my day-by-day, minute-by-minute experiences, but if I report on my greatest memories, it helps me identify what God was saying to me.
For me, Tom Lin's "Where is your Mongolia?" set the tone for the conference.  Interaction with a Serbian waiter at the restaurant (who I met in 2009) reminded me to be inviting people "to the table."  Remembering almost 900 young/new Christians standing, holding up their glow sticks professing newfound faith, and marching out brings me to tears.  Seeing almost 5000 stand and commit their lives to long-term cross-cultural service challenged me to remember the commitment I made in 1973.  And the testimony from the woman I refer to as Voldemort (she-who-must-not-be-named) will stay with me for the rest of my life.
What are your BIG FIVE?
FOUR messages or workshops to revisit.  The great thing about Urbana 2012 is that most of the main sessions and many of the workshops are available to re-visit – either at the www.urbana.org website or on iTunes or elsewhere.
What messages, testimonies or workshops do you want to hear/see again?  For me, Calisto's Bible Studies, Ram's invitation, several workshops, and the Malaysian students testimony of living in Bangkok can remind of some of the greatest lessons I learned at Urbana 2012.  I want to listen again to David Platt – but I think I'm scared to!
THREE Books to read.  I hope you took advantage of the amazing bookstore and the inexpensive books-of-the-day (I read one of these before I even arrived at Urbana J).  But now that we've bought all of these great resources, will we read them?
Having benefitted greatly from past Urbana conferences, I try to come home with three books to read, one in each of three categories: a) an inspirational book (biography or testimony) that reminds me that God uses broken people like me to achieve his global purposes; b) a book designed to help me go deeper in my understanding of God (theology) and my understanding of his mission in the world (missiology); and c) a book that helps me understand and respond to a global issue (hunger, HIV-AIDS, poverty, justice, trafficking, etc.).
TWO new contacts for prayer, learning, involvement, or networking.  I always celebrate the sheer size and diversity of the Urbana crowd – 16,000 attendees from every state in the USA, every province in Canada, and 100 other countries!  And these are my brothers and sisters.
BUT I learned long ago that I cannot possibly stay in touch with all the new and diverse people I meet at Urbana… so I try to come home with at least two: one from my own culture and one from outside my culture.  These contacts have become our prayer partners, our outreach associates, and our hosts in other lands.
My wife Christie and I met a Kenyan student at Urbana 87.  We corresponded, prayed for each other, and we joined him at the Kenyan "Urbana" in 1991.  We stayed in touch as I served in a church and he served in student ministry.  We met when he came to study in the USA.  He hosted us when we returned to Kenya.  And we had a rich reunion at Urbana 2012 with our friend of now 25 years – Calisto Odede.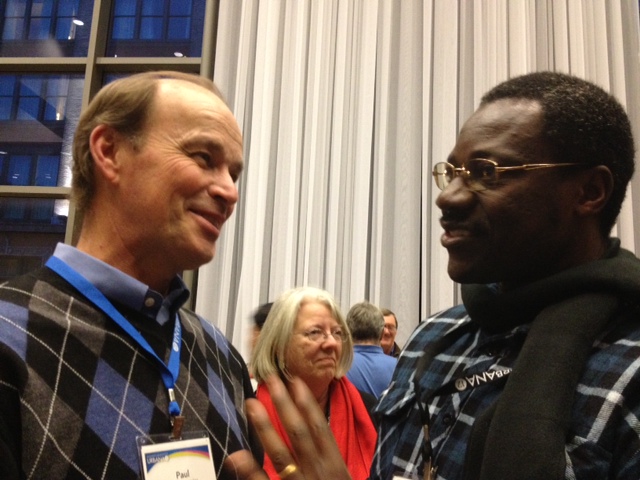 ONE significant life change.  I'm still processing this one.  On a personal level, was there a significant area of my life where I was convicted of sin and the need for change?  Platt challenged my materialism.  Calisto challenged my commitment to growing in holiness.
Or maybe the life change is related to ministry and outreach.  After Urbana 81 I committed myself to learning about the other world religions.  After Urbana 87, I concentrated on urban ministry.  Urbana 2000 challenged me to integrate my commitment to cross-cultural mission with my personal and corporate commitment to worship.
What's God saying to you?  Looking for one significant life change may be less than God wants for you.  Maybe there are several take-aways that he has spoken to you about.
I pray that the learning, worshipping, praying, and experiencing of Urbana 2012 will change your life.  Maybe a few of these "launch" ideas can help.
Paul Borthwick
January 3, 2013